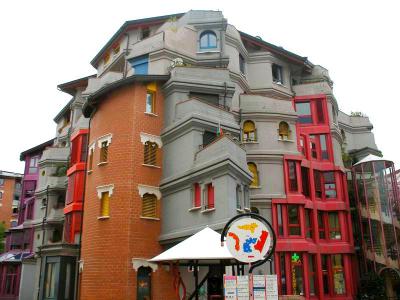 Schtroumph Buildings, Geneva
Designed and built between 1982 and 1984 by Swiss architects Christian Hunziger, Robert Frei and Georges Berthoud, this odd-looking housing complex with whimsical details – irregular angles, curved walls and wrought iron railings without a single straight line, and with pops of color, both inside and out – was clearly inspired by Catalan architect Antoni Gaudì.

The sheer surrealism of the architecture prompted the locals to jokingly refer to it as the "Schtroumpf" buildings, a made-up word translated into Dutch as "smurf", taken from a Belgian comic franchise centered on a fictional colony of small, blue, human-like creatures who live in mushroom-shaped houses in the forest.

The four buildings complex contains 170 city-subsidized apartments for rent, plus a number of office spaces on the ground floor, a pole dance studio, doctors' offices, a small theater and a café.

Albeit open to viewing only from the outside, the peculiar buildings are quite fun to look at. On Thursdays, there is a very funky local market at La Place des Grottes.
Schtroumph Buildings on Map
Walking Tours in Geneva, Switzerland