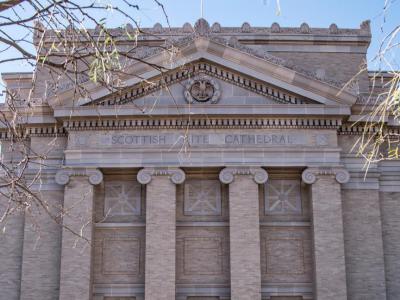 Scottish Rite Cathedral, Tucson
The Scottish Rite Cathedral is a historical building located in downtown Tucson, Arizona. The building is one of the most notable landmarks in the city, and is an important part of Tucson's cultural and architectural history. The Scottish Rite Cathedral was designed by noted architect Henry C. Trost and was completed in 1915. The building's distinctive design features a blend of Gothic and Renaissance Revival styles, with a stunning exterior adorned with intricate stonework and ornate carvings.

Today, the Scottish Rite Cathedral serves as a cultural and community center, hosting a wide range of events and performances throughout the year. The building's large auditorium is a popular venue for concerts, theatrical productions, and other performances, and its elegant ballroom is a popular spot for weddings and other special events. In addition, the Scottish Rite Cathedral is home to several historic artifacts, including the Valley of Tucson Scottish Rite Masonic Museum and Library, which contains a fascinating collection of Masonic regalia, documents, and other historic items.

The Scottish Rite Cathedral is open to the public for tours and events, and is a popular destination for history buffs, architecture enthusiasts, and anyone interested in Tucson's rich cultural heritage.
Scottish Rite Cathedral on Map
Walking Tours in Tucson, Arizona