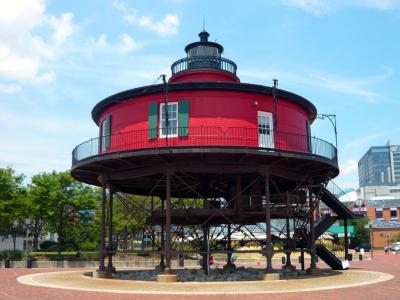 Seven Foot Knoll Light, Baltimore
The Seven Foot Knoll Light is a historic lighthouse located in Maryland. It was built in 1855 and is the oldest screw-pile lighthouse in the state. Originally situated atop Seven Foot Knoll in the Chesapeake Bay, the lighthouse was replaced by a modern navigational aid and relocated to Baltimore's Inner Harbor as a museum exhibit.

Constructed of 1-inch rolled iron, the lighthouse is divided into three main sections. The gallery deck, located 9 feet above the average high tide waters, is the first section. The second section is the house where the keeper and his family would live, while the third section is the light beacon, housing a 4th order Fresnel lens visible for 12 nautical miles.

The first requests for a light were made in 1848, and construction began in 1854, with most of the parts fabricated at the Murray and Hazelhurst iron foundry in Baltimore. After being shipped to Seven Foot Knoll, the parts were assembled atop the screw piles. Ice, a perennial threat to screw-pile structures, caused damage in 1884 and 1894, leading to the piling of riprap around the piles.

The light was automated in 1949 and fell into disrepair, eventually being replaced by a skeleton tower. In 1988, the lighthouse was removed from Seven Foot Knoll and placed ashore in Baltimore's Inner Harbor, where it was donated to the city. It was listed on the National Register of Historic Places in 1989 and restored by members of the Steinhice family descendants prior to its re-opening.

The lighthouse is a contributing element in the Baltimore National Heritage Area and part of the Historic American Engineering Record. Thomas Jefferson Steinhise, who served as the keeper from 1930 to 1941, was awarded the Silver Lifesaving Medal for his role in rescuing the crew of the tugboat Point Breeze in 1933. He is buried in Holy Cross Cemetery in Glen Burnie, MD, with a U.S. Lighthouse Service grave-marker.
Seven Foot Knoll Light on Map
Walking Tours in Baltimore, Maryland