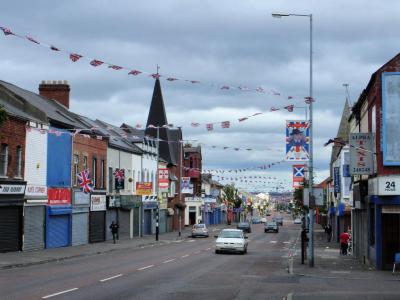 Shankill Road, Belfast
The Shankill Road (from Irish: Seanchill, meaning 'old church') is one of the main roads leading through west Belfast. It runs through the working-class, predominantly loyalist, area known as the Shankill.

The road stretches westwards for about 1.5 mi (2.4 km) from central Belfast and is lined, to an extent, by shops. The residents live in the many streets which branch off the main road. The area along the Shankill Road forms part of the Court district electoral area.

In Ulster-Scots it is known as either Auld Kirk Gate ("Old Church Way"),[better source needed] or as Auld Kirk Raa ("Old Church Road"). In Irish, it is known as "Bóthar na Seanchille" ("the road of the old church").
Sight description based on Wikipedia.
Walking Tours in Belfast, Ireland