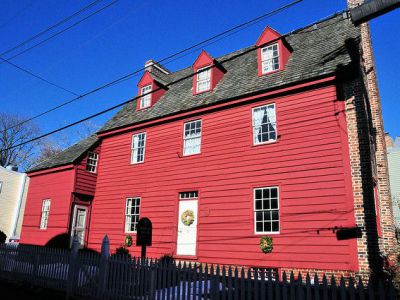 Shiplap House, Annapolis
Built around 1715, the Shiplap House is one of the oldest standing buildings in Annapolis, still retaining the beauty of its time. Like most of the historic properties in the city, it initially served as a store and tavern.

From as early as 1718, the property was owned by Edward Smith, who ran it as an inn and tavern until 1724. Attesting to this is the National Historic District Site & Building Survey plaque on the right side of the front door, which indicates that this house is a contributing building to the downtown Annapolis historic district designation. In 1780, the establishment was bought by John Humphrey who opened here another tavern, called Harp & Crown.

The building's later occupants included merchants and artisans, as well as the noted artist, Francis Blackwell Mayer, who used it as his private home from 1877 to 1901. By 1957, the house fallen into disrepair and was purchased by the Historic Annapolis Foundation. Restored over the years, today it is marked as a national landmark and serves as the Foundation's administrative office, not open to the public.

The name "shiplap" comes from the random-width flush siding (called shiplap), a traditional shipbuilding technique used on the building's rear facade and north-east ell. The amazingly wide, painted barn red siding boards are made from the very old, mature trees from the area. There is a small formal garden to the right of the house and a small parking area to the left.

The building is said to be haunted by ghosts. The most popular of them, named Adrianne, originated back in the days when it was Harp & Crown Tavern. She was one of Humphrey's baristas and a prostitute, and was often proposed marriage by men. She is believed to have been killed by one of her suitors after being rejected. The other two spirits spotted in the house are a 5 year old girl with blonde hair and a blue dress, named Audrey, and her maid, described as a young teenager wearing a dark dress. Employees report the spirits' presence with footsteps heard on the steps, unseen forces playing with the phones, cold spots and feelings of being touched. Spooky!!!
Walking Tours in Annapolis, Maryland