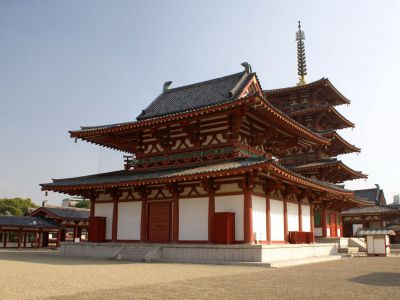 Shitennoji Temple, Osaka
The Shitennoji Temple is the first and therefore the oldest Buddhist Temple in Japan. It is located in the Tennoji-ku area of Osaka.

The Shitennoji Temple was built in 593 by Prince Shotoku who was instrumental in the rapid spread of Buddhism in Japan. He commissioned the temple to emphasize the importance of Buddhist chanting and meditation among the people. The buildings have suffered damage and have been rebuilt several times after the death of Prince Shotoku. The most recent renovation of the structure was in 1963. It remains the most popular among Buddhist shrines in the city and is the venue for many important festivals.

The Shitennoji Temple is built in honor of four heavenly Kings or the Shitteno. Four shrines dedicated to each God are placed in each direction. The shrine for Masunaga is in the South, Tamon in the North, Jokoku in the East and Hirome in the West. The complex consists of a five story pagoda, a golden hall that serves as a shrine of Prince Shotoku, a turtle pond and a garden called Gokuraku-jodo representing the Buddhist Paradise. The temple has from its foundations represented the power and prosperity of Japan. A major festival is held here on the 14th of January every year.
Walking Tours in Osaka, Japan