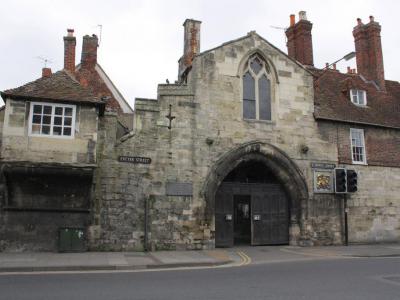 St. Ann Gate & Cathedral Close Walls, Salisbury
(must see)
St Annes Gate is one of the entrances to the Close of Salisbury Cathedral, the biggest close in England. The gate was built around 1331. It all came about in this fashion. In 1219, Bishop Richard Poore got the go-ahead from both the Pope and the King of England to build a new church. He chose the site of Salisbury today. He called it "New Sarum."

The legend goes the bishop shot an arrow over the River Avon and killed a deer. He decided to build where the deer fell. That's the legend. The fact is he wanted to have a diocese of his own. He laid out a grid pattern. In 1327 Edward III authorized an "embattled wall of stone" around the Close of the Cathedral to protect the clergy.

The walls of the Close were built using stones salvaged from the deserted Cathedral at Old Sarum. St Anne's Gate was also built using these stones. It is two stories high with a central stone arch. On the upper floor over the archway is a chapel lighted by pointed arched trifora windows on the east and west sides.

Next door to the Gate is the Malmesbury house. King Charles II stayed here I 1665. He was on the run from the Plague in London. He was fond of speechifying from his window. The chapel above the gateway was dedicated to St Anne and the Virgin Mary. After the Reformation, it was a music room. The great German-British composer George Handel gave his first concert in England here.
St. Ann Gate & Cathedral Close Walls on Map
Walking Tours in Salisbury, England