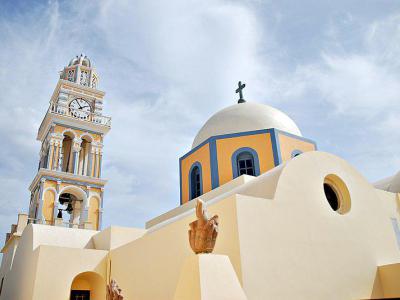 St. John the Baptist Cathedral, Santorini
(must see)
One cannot help but notice the beautiful grand churches and cathedrals that decorate the landscape of the island known as Thera or Fira. They are as much part of the community as are the many lava remnants. Dedicated to St. John the Baptist, the Catholic Cathedral of Santorini is a handsome and unique place of worship. Its peach exterior contrasts with the many white and blue domed churches that dot the landscape of this quaint, yet beautiful town. It was built in the 17th century by the Jesuit monks, missionaries of the Apostolic Order.

Santorini has experienced a lot of seismic activity throughout its existence. An earthquake in 1956 completely destroyed the previous church. The house of worship that we may enjoy today was restored and opened in 1975.

You will be impressed by the exquisiteness of the structure with its magnificent clock tower and accompanying bells. Once you enter the place of worship, you will find the confessional that is located to the side. The interior is eye-catching and features blue, orange, and cream accents throughout the building. A striking chandelier hangs below a religious painting, which is featured on a domed ceiling, and spectacular arches border the framed portraits of religious figures. Located on an island that the crusaders visited, this cathedral is simply stunning.

Why You Should Visit:
Not only do you experience the architecture of the island, but also, you may find a narrow street where all the souvenir shops are located, and you can eat a typical, local gyro as you look around the shops.

Tip:
You'll probably feel at ease attending a Sunday mass here (10am), as most attendees are usually tourists and there are parts where you may even recite in your own language instead of Greek, as there are many languages represented among the congregation.
St. John the Baptist Cathedral on Map
Walking Tours in Santorini, Greece