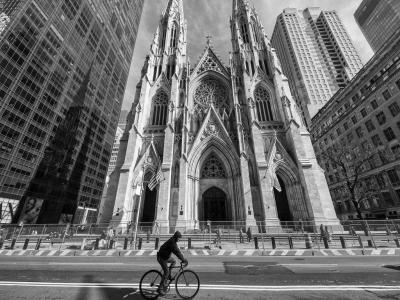 St. Patrick's Cathedral, New York
(must see)
There are two St. Patrick's Cathedrals in New York City. The construction of New St. Patrick's Cathedral was started in 1858 to accommodate the growing Archdiocese of New York and to replace St. Patrick's Old Cathedral, built in 1815. New St. Patrick's is the enormous Gothic Revival edifice erected between 50th and 51st Streets on Madison Avenue in Manhattan. It is the seat of the Archbishop of New York. Located directly across from Rockefeller Center, it was designed by architect James Renwick, Jr., and inaugurated in 1879.

The Midtown Cathedral is triumphantly vertical and Gothic. It is clad in marble. It has dozens of stained glass windows encased in pointed arches topped by triangular pediments. It is 332 feet long and the transepts are 174 feet wide. Soaring spires flank the enormous bronze entrance doors. The spires reach a height of 330 feet.

Inside is a nave with a center aisle and two side aisles. Thirty-two marble columns separate the center and side aisles. Above the center aisle are groin vaults supported by ribs and bosses. There are 12 chapels in the side aisles. The interior is designed for a seating capacity of 2,400. There are 300 wooden pews.

The high altar is a replacement. The original was moved to Fordham University Church in the Bronx. The current altar is made of grey-white Italian marble covered with a bronze canopy or baldachin. There is no tabernacle or altar screen. The baldachin is topped by a statue of Christ the King flanked by angels and pinnacles.

The New St. Patrick's Cathedral is a New York City designated landmark and is listed on the National Register of Historic Places.
St. Patrick's Cathedral on Map
Walking Tours in New York, New York
Useful Travel Guides for Planning Your Trip
---