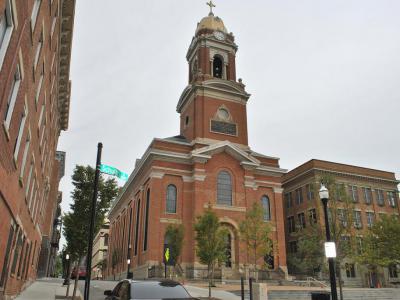 St. Paul Church, Cincinnati
St. Paul Church is a former Roman Catholic church located on the southeastern corner of Twelfth and Spring Streets in Cincinnati, in the city's Pendleton neighborhood. The German-speaking parish was formed in the winter of 1847–1848 to serve the members of St. Mary's Church who lived east of Clay Street.

The construction of the church was finished in 1850. This brick Romanesque structure has broad Doric pilasters set in its corners and between its tall, round arched windows. It has a Renaissance tower capped with a Pope's Mitre cupola roof and gilded cross. The three arched doorways face Spring Street. Light fills the interior and the proscenium is supported by twelve Corinthian columns.

A fire in 1899 destroyed all but the church walls and German-made stained glass windows, but reconstruction began at once, and the new St. Paul's was dedicated on October 7, 1900.

Deconsecrated in 1974, the church complex was named to the National Register of Historic Places in the same year. The buildings compose a historic district, the "St. Paul Church Historic District". In 1981, The Verdin Company, a bell and clock company, purchased the church building, convent, schools, and rectory. The buildings were restored and the church was transformed into a bell and clock museum/showroom. The other buildings were transformed into art galleries.

Today, the church is owned by Cafeo Hospitality. It is now a venue for weddings and corporate events.
Sight description based on Wikipedia.
Walking Tours in Cincinnati, Ohio