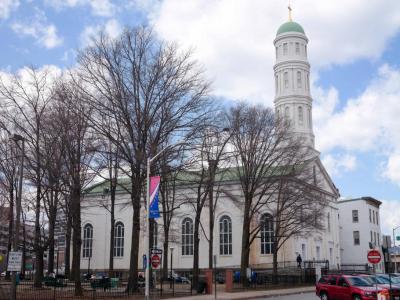 St Vincent De Paul Church, Baltimore
St. Vincent de Paul Church is the oldest Catholic parish church in continuous use in Baltimore, having been dedicated in 1841. The church has a rich history that is intertwined with the city's history.

The church was founded by Irish workers who were building the Baltimore and Ohio Railroad and the Chesapeake and Ohio Canal. It was built to serve the ever-increasing, wealthy, English-speaking Catholics in the Gay and Pratt Street area. St. Vincent de Paul Church welcomed people of all social ranks, including slaves and free people of color. In fact, the church had a slave gallery, which was removed during a 1890s restoration.

In 1875, the church was consecrated by Archbishop James Gibbons, one of four churches so recognized in America, which placed it under the direct protection of the Holy See. The parish's most famous son was James Cardinal Gibbons, who was born and raised in the church.

Over its 178-year life, the church has undergone several renovations, including a comprehensive interior renovation in 1991, which was completed in time for the 150th anniversary of construction. However, the exterior of the church has never been altered. The church building is neoclassical style, with brick walls painted white to give it the appearance of wood. Inside there are cast iron columns for support.

The church features a slender Georgian-style brick tower, painted white, which rises to a height of 150 feet above the narthex. The tower rests on an octagonal base and supports three successive indented tiers, capped by a copper-sheathed dome and twelve-foot gold-leafed cross. The church building features pediments and lintels quarried from Jones Falls stone. The tower serves as an iconic image for the historic Jonestown neighborhood of Baltimore and is visually paired with the nearby red brick historic Phoenix Shot Tower.

Throughout its long and diverse history, St. Vincent de Paul Church has maintained its original structure and is still an active and engaged parish today. The church and its members are very proud of the wide variety of backgrounds and cultures that have accumulated over the years.
St Vincent De Paul Church on Map
Walking Tours in Baltimore, Maryland