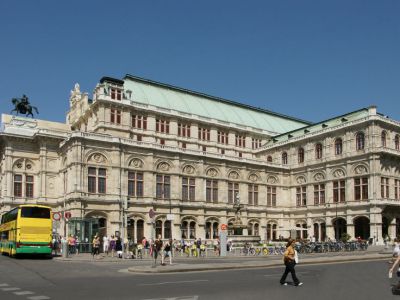 State Opera House, Vienna
(must see)
The State Opera House stands as an impressive architectural marvel, complemented by an equally remarkable ensemble of performing artists. Its historical roots trace back to approximately the 1860s when it was initially known as the Vienna Court Opera. However, the name underwent a transformation in 1920, orchestrated by the Habsburgs, during the early stages of the formation of the first Austrian Republic.

Numerous members of the Opera company eventually find themselves on stage with the renowned Vienna Philharmonic, showcasing a vast repertoire of celebrated compositions, including but not limited to, La Traviata, La Clemenza di Tito, and Verdi's Don Carlo. This venue frequently hosts performances by world-famous vocalists, and it has served as the launching pad for the careers of illustrious directors, ranging from Gustav Mahler to Herbert von Karajan and Claudio Abbado.

Beyond the captivating performances of singers and orchestra, the Opera House itself boasts architectural splendor that merits exploration. The State Opera offers guided tours of this remarkable edifice, conducted in 12 different languages. These tours are available daily and typically span approximately 40 minutes, providing visitors with a deeper understanding of this cultural gem.

Tip:
Do not buy opera tickets from the dressed up people outside on the street – they don't sell real tickets!
Walking Tours in Vienna, Austria
Useful Travel Guides for Planning Your Trip
--- Top 16 Austrian Things to Buy in Vienna
Vienna stool, Viennese schnitzel, Viennese waltz, Vienna sausage, Viennese apple strudel... There's so much Vienna to it, that you might think you've heard it all. Luckily, chances are that you haven't and there's much more in store left to be discovered about this fascinating... 7 Ultimately Austrian Foods to Taste in Vienna
Once the center of the vast Hapsburg Empire, stretched from France in the West to Russia in the East, Austria has embraced many ethnic influences in its cuisine over the course of centuries. Many of the country's distinctive dishes reflect its multinational heritage. Coffee culture, for...