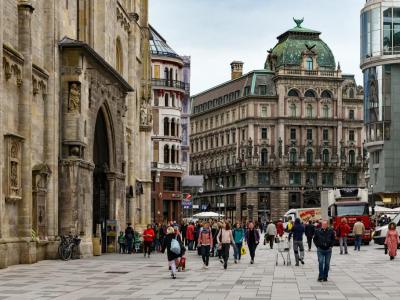 Stephansplatz (St. Stephen's Square), Vienna
Stephansplatz stands as a central square in Vienna, situated at its geographical heart. This square takes its name from the Stephansdom, Vienna's primary cathedral and one of the world's tallest churches, which stands as its most prominent landmark. Before the 20th century, a line of houses separated Stephansplatz from Stock-im-Eisen-Platz. However, with the demolition of these structures, the name Stephansplatz came to encompass the broader area that includes both squares.

To the west and south, we find the upscale shopping streets known as der Graben, which translates to "the Ditch," and Kärntner Straße, with "Kärnten" being the German word for Carinthia. Opposite the Stephansdom lies the Haas-Haus, an architecturally striking modern building designed by Hans Hollein. Initially, public sentiment expressed skepticism about the juxtaposition of a medieval cathedral and a glass-and-steel structure. Nevertheless, it is now regarded as an exemplar of how old and contemporary architecture can coexist harmoniously.

Why You Should Visit:
While this might not be the best location for a gourmet meal, sitting in one of the local cafes does provide for world-class people watching in a prime historic location. With the Stephansdom dominating the scene, you can't go wrong.

Tip:
While in Stephansplatz, walk around the side of the Stephansdom to see a miniature thereof. It's quite fun to see it tiny!
Stephansplatz (St. Stephen's Square) on Map
Walking Tours in Vienna, Austria
Useful Travel Guides for Planning Your Trip
--- 7 Ultimately Austrian Foods to Taste in Vienna
Once the center of the vast Hapsburg Empire, stretched from France in the West to Russia in the East, Austria has embraced many ethnic influences in its cuisine over the course of centuries. Many of the country's distinctive dishes reflect its multinational heritage. Coffee culture, for... Top 16 Austrian Things to Buy in Vienna
Vienna stool, Viennese schnitzel, Viennese waltz, Vienna sausage, Viennese apple strudel... There's so much Vienna to it, that you might think you've heard it all. Luckily, chances are that you haven't and there's much more in store left to be discovered about this fascinating...