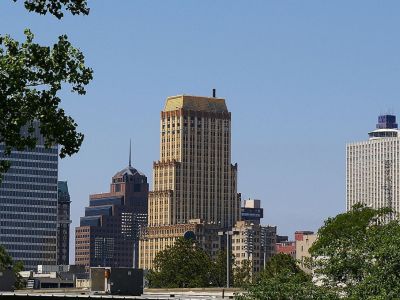 Sterick Building, Memphis
The Sterick Building is the fifth tallest building and was the tallest building in Tennessee until the early 1960s. The 29-story building features a Gothic design was designed by Wyatt C. Hendrick and Company. It was named for its first owners, R.E. Sterling and Wyatt Hedrick. The building was constructed in 1930.

Located on the corner of Madison Avenue and North Third Street, this building was known as "The Queen of Memphis" and "the most complex, most fabulous building in Memphis." Some of the businesses this rare jewel contained included a pharmacy, beauty parlor, bank, barber shop, stockbrokers' offices, and a Regency Room restaurant.

The building began to lose its luster during the 1960s and has been vacant since the 1980s. Although the Memphis Center City Commission placed the Sterick Building on its list of "Top Ten Center City Redevelopment Sites in 2006, there are no plans to renovate or reopen the building.

The Sterick Building was placed on the National Register of Historic Places in 1978.
Walking Tours in Memphis, Tennessee