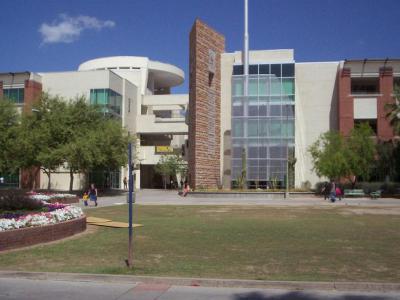 Student Union Memorial Center (U of A), Tucson
The University of Arizona Student Union Memorial Center, commonly referred to as the SUMC, is a hub of student activity on the campus of the University of Arizona in Tucson, Arizona. This multi-level building offers a wide range of services and amenities for students, including dining options, study spaces, a theater, a game room, meeting rooms, and more.

During the 1960s and 1970s, the SUMC was a center for student activism and political demonstrations.

In 1969, the SUMC was the site of a 3-day sit-in by students protesting the university's involvement in the Vietnam War. The sit-in culminated in a confrontation between the students and the police, with over 50 students arrested.

In 1971, the SUMC was also the site of a protest against the visit of then-President Richard Nixon. Students gathered on the lawn outside the SUMC, chanting and holding signs, while Nixon addressed a crowd inside.

Today, the SUMC continues to be a center for student activities, housing student organizations, a food court, a bowling alley, a movie theater, and a variety of other services and resources.
Student Union Memorial Center (U of A) on Map
Walking Tours in Tucson, Arizona