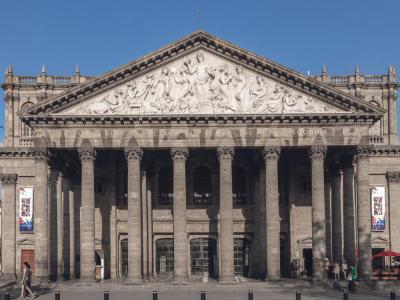 Teatro Degollado (Degollado Theatre), Guadalajara
(must see)
Degollado Theater is a stunning classical-style theater that was commissioned in 1855 and built between 1856 and 1866. When the theater was commissioned, it was called Alarcon Theater after actor Juan Ruiz de Alarcon.

Santos Degollado was Jalisco's governor and laid the theater's cornerstone in 1856. He died in battle in 1861, and the theatre was renamed to honor Degollado in December 1866.

The exterior has grand Corinthian columns. The pediment features a mosaic showing Apollo and the Nine Muses.

Degollado Theater's interior features golden walls with beautiful paintings. Artists Gerardo Suarez and Carlos Villasenor created an impressive mural depicting Dante's Divine Comedy's fourth canto.

Internationally acclaimed opera singer Angela Peralta de Castera sang Lucia of Lammermoor at the theater's opening in 1866. Famous tenor Placido Domingo sang the same opera to commemorate the theater's centennial in 1966.

Today, the theater hosts the Jalisco Philharmonic Orchestra, opera, dance, theater, and artistic festivals.
Teatro Degollado (Degollado Theatre) on Map
Walking Tours in Guadalajara, Mexico