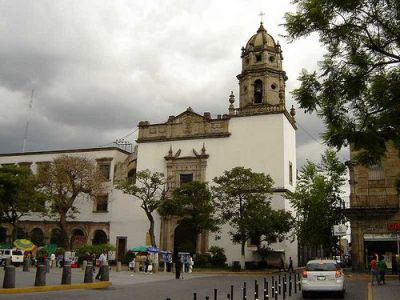 Templo de San Agustin (San Agustín Church), Guadalajara
San Agustin Church is known as Guadalajara's loveliest church. Phillip II of Spain commissioned the baroque church in 1573.

The Augustinian order had wanted its own church for many years, but rival Franciscans rejected the idea. Fray Antonio de Mendoza was put in charge of the new church, and his sister donated funds to build the church. San Agustín Church was built between 1573 and 1674 and features a distinctive gold and white facade.

Augustin convents were usually built facing west. However, the San Agustin Church was built facing north to face the city's main square at that time. The old square disappeared when the Degollado Theater was built in 1866.

The interior is simple and features an altar depicting Saint Augustine and his mother, Saint Monica.

In 1818, a large earthquake destroyed the church, which was rebuilt in 1854. The adjacent former convent now houses the School of Music of the University of Guadalajara.
Templo de San Agustin (San Agustín Church) on Map
Walking Tours in Guadalajara, Mexico