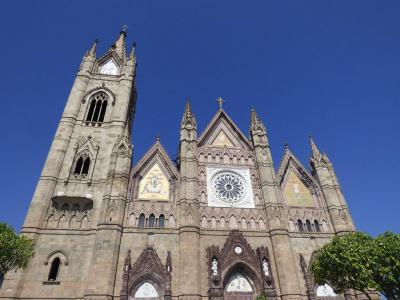 Templo Expiatorio (Expiatory Church), Guadalajara
(must see)
The Templo Expiatorio del Santísimo Sacramento, or Expiatory Church, is a Catholic church dedicated to the Blessed Sacrament. The church was designed by Italian architect Adamo Boari in the Neo-Gothic architectural style. Construction on the church began in 1897.

Construction on the Expiatory Church halted in 1910 due to the Mexican Revolution. Building did not start again until 1924. Three years later, architect Ignacio Diaz Morales took over the project and oversaw construction until it was completed almost 50 years later. The church was finally complete in 1972.

The church is primarily made of carved stone. The temple's doors are made of granadilla wood, carved by Jesús Gómez Velazco, and they are incrusted with bronze high reliefs made by master Benito Castañeda. The three tympana on the church's facade are embellished with Italian mosaics created in the Vatican's Mosaic Factory. The central one represents the Lamb of God; the east, Saint Tarcisius; and the west, St. Pius X. The church clock, imported from Germany, has a 25-bell carillon.

Tourists are welcome to visit the church for free from 7 AM to 11 PM seven days per week.
Templo Expiatorio (Expiatory Church) on Map
Walking Tours in Guadalajara, Mexico