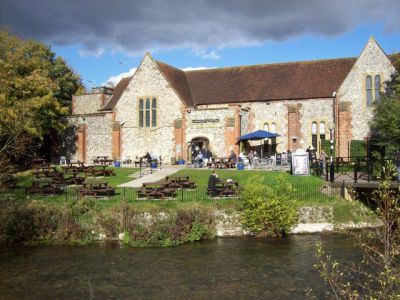 The Bishop's Mill, Salisbury
The Bishop's Mill is no longer a mill. It is a pub in an historic building located on an island in the River Avon in the center of Salisbury. The facade is dressed with flint and stone. It has two gables with stone mullioned tall windows. It has three stories of red brick and wooden casements. The roof has old tiles.

The earliest lease for the property is dated 1504. The lease describes the property as "four water mills" called the Bishops Mills. The pub was in fact owned by the bishop of Old Sarum and it is mentioned in William the Conqueror's Doomsday Book.

The Bishops Mill pub has a covered beer garden with tables and chairs set on a lawn alongside the serene avon River. A wooden bridge reaches across the river to the mill. The inside is a a high-ceiling main space. The walls are of flint and brick and there is a mezzanine type second floor gallery. The mill is a favorite watering hole for both tourists and locals.
Walking Tours in Salisbury, England