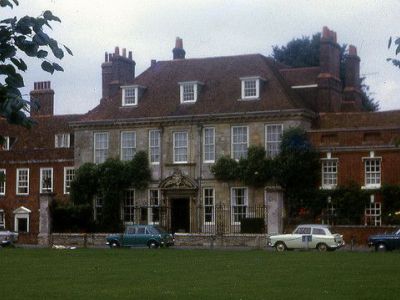 The Bishop's Palace, Salisbury
The Bishop's Palace is one of Salisbury's oldest buildings, yet not all that well-known. Hidden behind tall walls and gates, with only faint glimpses of stonework seen through the trees planted in front of it, it is presently better known as Salisbury Cathedral School. Access to the grounds is limited to students and staff, with only rare openings to the public.

The property was started around 1219, around the same time as the cathedral itself, by Bishop Richard Poore to become his first residence (as well as the first edifice erected within The Close). It was initially, and rather unimaginatively so, referred to as 'New Place'. The original building, rather simple, was later added to and altered by subsequent bishops until it gained its present form – a series of irregular structures – the most striking of which is the tower with crenallated turret resulted from a large overhaul in the late 15th or early 16th century.

A 15th-century bedchamber was converted into a Tudor chapel in the mid-16th century (first documented in 1588). Parts of the palace were demolished after 1648, with the surviving elements converted into an inn and tenements. Fragment of the original building has survived in the vaulted undercroft, known as Bishop Poore's Hall. Restored by Bishop Wordsworth in 1889, it was used by Bishop Wordsworth School.

During the Commonwealth period, from 1649 to 1660, the palace was let out in tenements, one of which was kept as an inn by a Dutch tailor. After these depredations the house was completely restored by Bishop Seth Ward. The gardens were laid out and a lake formed in the mid-19th century, at which time the stables and an entrance lodge were added.

Parts of the property were demolished in 1931, and in 1947 the Church Commissioners exchanged the palace with the dean and chapter for Mompesson House. The palace then became the premises of the Cathedral School, and the bishop moved his residence, for a time, to Mompesson House.

Presently, displayed inside the palace is a collection of portraits of all the Bishops of Salisbury.
The Bishop's Palace on Map
Walking Tours in Salisbury, England