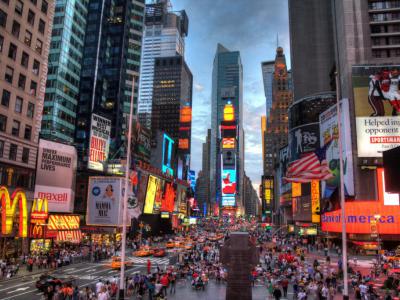 Times Square, New York
(must see)
Once a native pathway running the length of the Island of Manhattan, Broadway, unlike other streets in NYC, was not laid out on a grid. Hence, it intersects with Seventh Avenue and 42nd Street, forming two triangular shapes, like a bow tie. Times Square is the name of the southern triangle, while the northern triangle is called Duffy Square, after Father Francis P. Duffy of the 69th Infantry Regiment of World War I.

The section of Broadway between 41st and 53rd Streets, clustered around Times Square, is also often referred to as the Great White Way. The nickname comes from the many lit-up billboards, posters, and marquees that promote plays and musicals in Theater District. This frenetic pedestrian area is the heart of the city's entertainment industry, and it draws annually up to 50 million visitors (or 330,000 souls per day), who come here by subway or simply walking, while looking for something extraordinary.

Times Square was known as Longacre Square until 1904, when Adolph S. Ochs, the owner and publisher of The New York Times, moved his headquarters into the newly erected Times Building, currently One Times Square. Within a decade, the New York Times outgrew its space and moved offices again, but not before starting a tradition of the annual New Year's Eve Ball Drop. The tradition began on December 31, 1907, and continues to date, attracting over a million visitors every year.

The square has many other attractions like ABC's Times Square Studios, The Bubba Gump Shrimp Company (Seafood), and Planet Hollywood, to mention but a few. The illuminated signs in Times Square rival those of Las Vegas, and, according to their size, are called either "spectaculars" or "jumbotrons."

Among these are quite a few neon-lit signboards of retail establishments like Gap, Old Navy, Forever 21, Levi's, Disney Store, the Hershey's and M&M, that make up the Times Square shopping scene. This commercial hub in the center of Midtown Manhattan is also ideal for scooping up a souvenir to commemorate your stay in NYC.
Walking Tours in New York, New York
Useful Travel Guides for Planning Your Trip
---