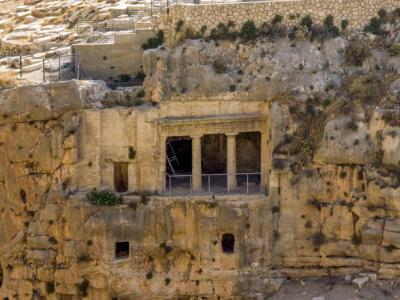 Tomb of Benei Hezir, Jerusalem
Dating back to the time of the Second Temple (2nd century BCE), this is the oldest of four monumental rock-cut tombs that stand in the Kidron Valley, testifying to the Hellenistic period and the time of the Hasmonean monarchy in Jewish history. The tomb is effectively a burial cave dug into the cliff, with an architectural style influenced by ancient Grece (two pillars with Doric capitals) as well as Nabataean culture (fashionable among some Judaean families for its decorative elements), but without any Egyptian influences.

The tomb's Hebrew inscription makes it clear that this was the burial site of a priestly family called Benei Hezir. In the Hebrew Bible, there are two mentions of men with the name of Hezir: one was the founder of the 17th priestly division (1 Chron. 24:15); the other was among the leaders who set their seal to the covenant with Nehemiah (Neh. 10:20). It is not known if there is a relation between the family buried here and the biblical Hezirs.

Tip:
You can walk up close to the tomb complex; alternatively, the monument is fully visible from the roadside just outside the Old City. Walk along Maale Ha-Shalom on the valley side of the road until you are just above the tomb. There you will find a viewpoint, with layout map and an audio device that is well worth listening to while viewing the monuments below.
Tomb of Benei Hezir on Map
Walking Tours in Jerusalem, Israel
Useful Travel Guides for Planning Your Trip
--- 16 Uniquely Israel Things to Buy in Jerusalem
Modern day Jerusalem is a mosaic of neighborhoods, reflecting different historical periods, cultures, and religions. The influx of repatriates in recent years has made the cultural and artisanal scene of the city even more colourful and diverse. To find your way through Jerusalem's intricate...