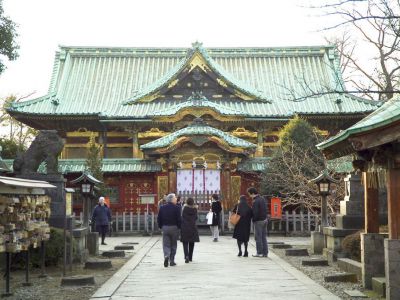 Tosho-gu Shrine, Tokyo
The Tosho Gu Shrine is dedicated to Tokugawa Ieyasu, the first shogun who founded the city of Tokyo. It is one of the few structures in the city that is preserved in its original state.

The Tosho Gu Shrine was built by a warrior, Todo Takatora who was a vassal of Tokugawa Ieyasu. It was later expanded by Hidetada, Ieyasu's son and his grandson, Iemitsu redesigned the shrine and caused the lavish decorations that adorn the buildings within. It has over 12 Buddhist and Shinto buildings. It contains the mausoleum of Tokugawa Ieyasu and two other influential statesmen, Toytomi Hideyoshi and Minamoto Yoritomo.

The main gate is the Karamon which is a Chinese style structure with gilded carvings of birds and flowers. The Haiden is the main hall of the Tosho Gu Shrine where ceremonies are conducted. The hall is surrounded by a 170 meter long carved wooden wall called the Mizu Gaki. The path leading to the shrine is lined with 50 large copper lanterns and large stone lanterns. It contains some beautiful paintings including murals by the Edo artist, Kano Tan Yu. After the Meiji restoration, a park was designed around the Tosho Gu shrine. It proved to be a wind break that protected the structure from the many fires that ravaged Tokyo. Visitors can buy good luck charms near the shrine to bring them good health and prosperity.
Sight description based on Wikipedia.
Walking Tours in Tokyo, Japan
Useful Travel Guides for Planning Your Trip
---