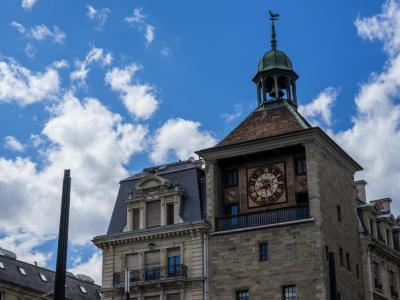 Tour de l'Ile, Geneva
One of the main cultural and architectural heritage sites of Geneva, Tour de l'Ile ("Tower On The Island") is what's left of the fortified Castle de l'Ile completed in 1219 by the Bishop Aymé de Grandson, who once ruled the city as a Prince of the Holy Roman Empire. The castle played an important role in the defense of the city and was originally built to provide additional control over the strategic Rhône crossing – placed on the small island which for many years was the only checkpoint en route between northern and southern Europe, thanks to the Le Pont de l'Ile bridge spanning the river banks. Julius Caesar, who met Divico, King of the Helvetii, here in 58 BC, had this bridge destroyed.

In 1842, renowned watchmaker Vacheron Constantin moved in the Tour de l'Ile replacing the previous tenants, the Geneva police department. He took up residence in the tower in 1844 and his company remained here until 1875. After nearly a 140 year hiatus, in 2012, Vacheron Constantin firm re-established their quarters here again.

There has been a clock, in one form or another, on the top of the tower since 1538. Today it has been restored to the appearance it had when the first mechanism was replaced in 1680, complete with the Latin motto, "Post Tenebras Lux" (After Darkness, Light) on the dial.

The entire tower underwent extensive renovations, as well as archaeological excavation of its foundations, in 1898, and again in 1938 and 1957. Presently, several floors of the building are occupied by private apartments. On the right, just by the main entrance, there is a statue of the Genevan patriot Philibert Berthelier, who was beheaded in 1519 for defying the Dukes of Savoy; above him is a most interesting sundial: a Noon Mark sundial, with an analemma carved into the masonry. This particular type of sundial shows you when it's noon, any day of the year.

The located nearby Brasserie des Halles de l'Ile makes a perfect spot for a break!
Walking Tours in Geneva, Switzerland