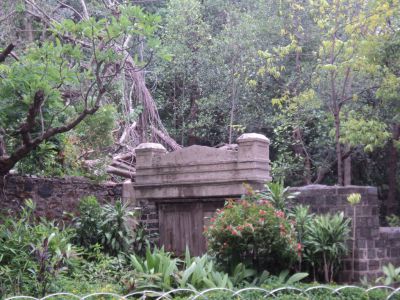 Tower of Silence, Mumbai
There are many fascinating structures and monuments in the city of Mumbai. With its diverse blend of cultures and people, Mumbai has some of the most intriguing monuments on its soil. One such monument is the Tower of Silence, which is the final resting place for the Parsi community.

The Zoroastrians first migrated to the Indian subcontinent during the 10th century AD and have since been an integral and important part of the Indian community. The city of Mumbai has always been home to a large population of Parsis. The Tower of Silence was built in 1672, by Seth Moti Hirji. The Tower is where the Parsi community performs the last rites for the departed.

According to Zoroastrian belief, the earth – Zam and fire- Atar are considered pure and divine. The body of the dead is considered as a pollutant and hence the dead are disposed off atop of a tall tower, to be putrefied by the sun and birds of prey. The Tower of Silence is strictly off limits for unauthorized personnel, but the surrounding area is open for visitors and tourists. Despite the obvious nomenclature for the place, the Tower of Silence must not be looked as place of peace and tranquility.
Walking Tours in Mumbai, India
Useful Travel Guides for Planning Your Trip
--- Places to Eat Local Food in Mumbai
As its said, in a city like Mumbai, anybody wanting a good meal any time of the day, there's always a rush and a stomach will always be fed. Whether its a quick bite or to indulge yourself, there is a plethora of tastes and flavours, 24/7, vying to satiate your taste buds. Multifaceted,... Mumbai Shopping: 16 Souvenir Ideas for Travelers
In India, a foreigner can't get far without insider knowledge, whether it's for souvenir shopping or something else. Mumbai (formerly known as Bombay) is by far the most popular and the largest of Indian cities, teeming with a plethora of things representative of India's millenia-long...