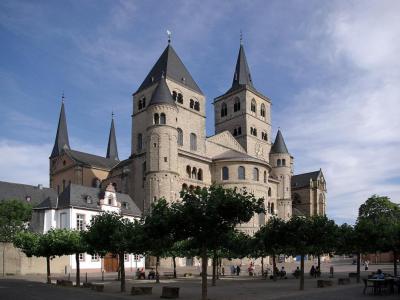 Trier Dom (St. Peter's Cathedral), Trier
(must see)
St. Peter's Cathedral is Germany's oldest church and Trier's oldest building still serving its original purpose. The cathedral is a UNESCO World Heritage Site.

It is thought that Emperor Constantine the Great commissioned the cathedral and built it on top of a Roman palace. The next-door Church of Our Lady was also built on top of the original Roman complex.

Bishop Maximin oversaw the cathedral's construction in the fourth century. This impressive cathedral was four times the size of the current cathedral and features four basilicas.

Parts of the present-day church's brick walls and piers are from the original cathedral. The cathedral has been damaged and rebuilt several times over the centuries. St. Peter's Cathedral is mainly Romanesque but features Gothic vaults, Baroque chapels, and Renaissance sculptures.

Visitors will find Roman brickwork on the north facade. The cathedral's stunning west facade was built in the 11th century. The Chapel of the Holy Robe was added to the east choir in the 18th century.

There is a Latin inscription above the tallest tower's clock. The inscription can be translated as "You do not know what time the Lord is coming."

The interior features three Romanesque naves with Gothic vaults. Four original Roman columns have been transformed into cruciform piers.

The invaluable Holy Robe is featured in a Baroque chapel. The relic is thought to be the robe Jesus wore during his crucifixion, and Saint Helena discovered the relic in the fourth century. Since 1512, the cathedral has held irregular pilgrimages to allow the faithful to view the Holy Robe. The last pilgrimage was held in 2012.
Trier Dom (St. Peter's Cathedral) on Map
Walking Tours in Trier, Germany