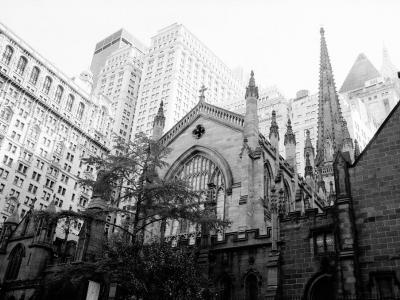 Trinity Church, New York
Trinity Church is a traditional high church located not far from the intersection of Wall Street and Broadway in Lower Manhattan. Renowned for its storied past and endowment, this historic temple has been around since the late 17th century.

Originally built in 1698, the church had been remodeled three times until the current edifice came in 1846. Over the centuries, the Manhattan Trinity Church has held an important place in American history. During the American Revolution, it served as the British headquarters before being destroyed by the Great Fire of New York in 1776. The replacement building was completed in 1790 and saw many of the Nation's Founding Fathers, including Alexander Hamilton and John Jay, attending services. President Washington and members of his government often worshiped there.

The burial grounds outside the church are a who's who of the early days of the Nation. Alexander Hamilton is buried here alongside his wife and son. Hamilton was the Nation's first Secretary of the Treasury after George Washington was elected president in 1789. Following Washington's death in December 1799, for a brief period, he was also the most senior-ranking officer in the U.S. Army until his retirement a year later.

Among other notable figures buried at Trinity are William Bradford (English printer, often referred to as "the pioneer printer of the Middle colonies"), Robert Fulton (American engineer and inventor of commercial steamboat), William Alexander (also known as Lord Stirling, a Scottish-American major general during the American Revolutionary War), Francis Lewis (a signer of the United States Declaration of Independence as a representative of New York), Hercules Mulligan (Irish-American tailor and spy during the American Revolutionary War), Edward Irving Koch (the mayor of New York City from 1978 to 1989), and others. Remarkably, the Trinity Church graveyard is also the only cemetery in Manhattan still in service.
Walking Tours in New York, New York
Useful Travel Guides for Planning Your Trip
---