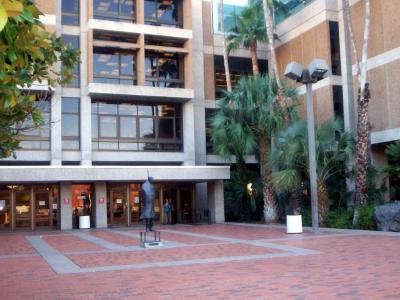 University of Arizona Main Library, Tucson
The University of Arizona Main Library is the largest academic library in the state of Arizona. With a collection of over seven million books, journals, maps, government documents, and multimedia materials, the library is a vital resource for students, faculty, and researchers.

The building itself is an impressive sight, with its soaring atrium, modern design, and spacious reading rooms. In addition to its extensive collection, the Main Library offers a wide range of services, including research assistance, interlibrary loan, and access to digital resources.

One interesting story about the University of Arizona Main Library is that it was actually built on the site of a former football stadium. In the early 1960s, the University of Arizona was in need of a new library to accommodate its growing collection of books and other materials. At the time, the school's football stadium, known as Arizona Stadium, was located on the site where the library now stands.

Rather than constructing a completely new building from scratch, university officials decided to renovate the existing stadium and convert it into a modern library. The renovation involved replacing the original seating bowl with stacks and reading rooms, and adding a five-story central atrium to create a spacious, open feel.

The resulting library, which opened in 1976, was a dramatic departure from the traditional academic libraries of the past, with its modern design, open spaces, and innovative use of natural light. Today, the University of Arizona Main Library is not only a vital resource for students and scholars, but also an iconic building that stands as a testament to the university's commitment to innovation and progress.
University of Arizona Main Library on Map
Walking Tours in Tucson, Arizona