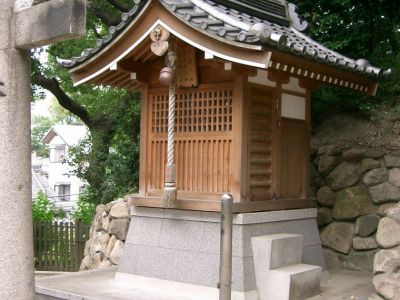 Yasui Shrine, Osaka
The Yasui Shrine is dedicated to two important monks called Sukuna-hikona-no-kami and Sugawara-no-Michizane. It also has a monument to the brave warrior Sanada Yukimura who died fighting the shoguns at the site.

The year of construction of the shrine is unknown. Some believe that it was established in 942 when Sugawara-no-Michizane rested here on his way to Kyushu. Another theory is that there was a shrine at the location as early as the year 590. It is also dedicated to Sukuna-hikona-no-kami a Buddhist monk whose name appears in many Japanese historical legends. Sanada Yukimura a hero of the battle of Osaka came to the temple as a last resort and died here fighting bravely.

Visitors need to climb a steep stone stairway to reach the Yasui Shrine after passing a carved stone gate. It is a small peaceful stone structure built on the rim of a small hill. The Kanshizume-no-I or Well of Nerve Calming is located within the complex. The waters of the well are said to be one of the seven best waters in the city and is sacred because it was drunk by Sugawara-no-Michizane. There is also an imposing sculpture of the well loved war hero Yukimura Sanada on a pedestal. People from all over Japan come here to pay their respects to the hero and write their wishes on offerings made to his statue.
Walking Tours in Osaka, Japan