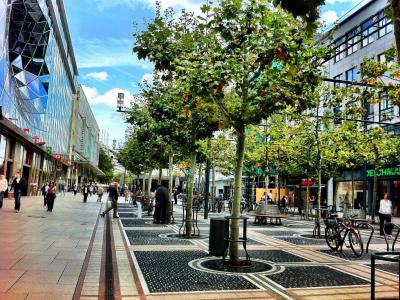 Zeil (Shopping Lane), Frankfurt
Once the center of a large cattle trade in Frankfurt, this busy lane has been one of the most famous shopping venues in Germany since the end of the 19th century. The Zeil is a shoppers' paradise where visitors with varied budgets can find a range of products suiting their pockets, from mid-priced supermarket fare to high-end merchandise. Luxury goods, designer brands, handicrafts, clothes by young Frankfurt designers, and more are found here in rich supply. There are outlets of all the major German retail chains, plus those offering products from the Frankfurt area.

The name Zeil dates back to the 14th century, and is derived from the German word Zeile, which means "row". Originally, it referred to a row of houses on the eastern end of the north side and was not extended to the entire street until later.

Prior to World War II, the Zeil hosted an array of grand buildings, most of which were destroyed and never rebuilt. Its western part, between two large plazas – Hauptwache in the west and Konstablerwache in the east, is now a pedestrian zone. These plazas serve as major intersections for underground trains, trams, and buses. Following a major renovation in 2008-2009, the Zeil pedestrian zone was extended to the west, as far as the Börsenstrasse.

The three edifices dominating the Zeil today include the Zeilgalerie, a 10-storey shopping center with a unique spiral design, home to many music- and electronic stores and restaurants. Another grand is a shopping center, called the Palais Quartier, a blend of Modern and Baroque architecture; it has a spectacular vortex-like glass façade, glass columns, and irregularly shaped ramps. And finally, the 12-storey Beehive House, a commercial and office building, which is also one of Frankfurt's earliest skyscrapers.

Why You Should Visit:
A unique shopping experience in what could be referred to as an "outdoor shopping mall"; a perfect place to acclimate to Europe if you arrive in Frankfurt – fun to shop, eat and explore, while admiring the architecture. As a bonus, you don't need to worry about cars while crossing the street either.
Zeil (Shopping Lane) on Map
Walking Tours in Frankfurt, Germany
Useful Travel Guides for Planning Your Trip
--- Frankfurt's Best Authentic Restaurants
Frankfurt is a dynamic and popular city located right in the center of western Europe. More than 10,000 people move to Frankfurt every year; over the past decades, it has become a highly international city -- about half of all children born here had non-German parents. Being the main hub for the... 15 Distinctively German Things to Buy in Frankfurt
Home to the European currency (ECB) and namesake sausages, Frankfurt is undoubtedly one of, if not "the", most known destination in Germany. For this there are quite a few reasons. Listed here are some of the things behind those reasons, which now can be picked up as...