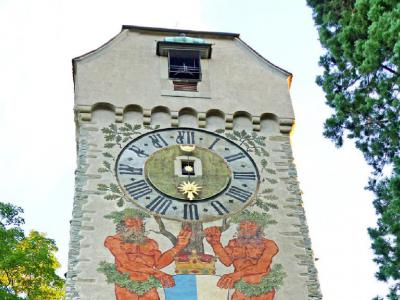 Zytturm / Zeitturm (Time Tower), Lucerne
The most unique of the Musegg Wall towers – the Zytturm or Zeitturm (Time Tower) – was named so for being purposely designed to accommodate the city clock.

The tower was built in 1403 (some sources place the construction year at 1442), with certain wall sections reportedly dating to 1386. Originally, the building had a crenelated wreath and an inner pent roof that was replaced, later in the 15th century, with a half-hip roof that is seen today.

The tower stands 31 meters high and has a footprint of 9.1 x 7.25 meters. The clock dial measures 3 to 4 meters "carried" by two giant figures painted on the south façade. Placed in such a way that one could read the time from afar, the digits were made large enough to be seen by fishermen on the lake. Both the dial and the painting were first documented in Diebold Schilling's 16th century Lucerne Chronicle; their most recent renovation took place in 1939.

The Zytturm clockwork is the oldest in Lucerne and all of central Switzerland; the first mechanism – complete with stone weights and pendulum – was made in 1385 and then replaced by the current one in 1535.

Since the late Middle Ages the Time Tower has had the privilege of the first strike – its clock chimes the hour one minute before any other public clock in Lucerne. Its bell, the Leonhardsglocke – adorned with reliefs of the Crucifixion and Lucerne's coat of arms – was originally cast in 1370 and first hung in St. Peter's Chapel on Kapellplatz.

Since the late Middle Ages, there has been a person tasked with winding the clock on a daily basis. The operating manual, dated 1386, is kept at the Lucerne State Archives.

As of 1951 the Zytturm has been open to the public: from April 1 to November 1. Admission is free.

Why You Should Visit:
One of Europe's most unique clock towers!
A climb to the top offers a great up-close view of the Old Town, the lake and the mountains.

Tip:
Be there on the hour to watch the inner clock workings, as the bells chime.
There are nine more historic clocks exhibited inside.
Zytturm / Zeitturm (Time Tower) on Map
Walking Tours in Lucerne, Switzerland