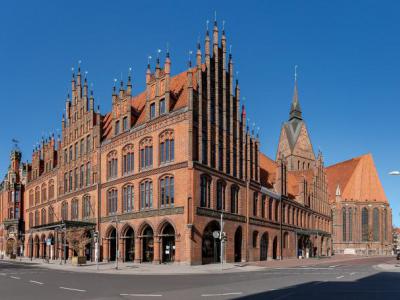 Altes Rathaus (Old Town Hall), Hanover
(must see)
The Old Town Hall was built in 1410 and is Hannover's oldest secular building. Old Town Hall features an impressive red-brick Gothic facade.

The Koebelinger Street wing is known as the Chemist's Wingand housed the town's pharmacy. Architect Conrad Wilhelm Hase rebuilt this wing in Italian Romanesque style in the 1800s.

Hase also renovated the other wings to reflect their original 16th-century style with stunning gothic gables and decorative panels.

Visitors will find a variety of royal portraits and coats of arms on the walls. In addition, visitors can see a picture showing the "Luderziehen," a game played in the Middle Ages. Instead of using a rope, participants would play tug of war with their little fingers.

The town hall was damaged during World War II and restored in 1953 and 1964. Today, visitors can tour the building and enjoy the modern restaurant on the first floor.
Altes Rathaus (Old Town Hall) on Map
Walking Tours in Hanover, Germany