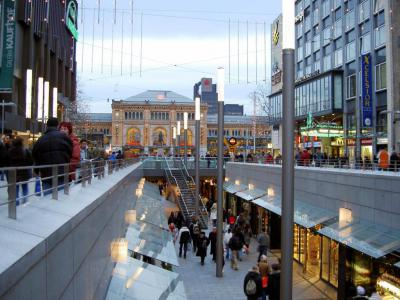 Bahnhofstrasse (Train Station Street), Hanover
Train Station Street--or Bahnhofstrasse, as the locals say--is Hanover's main shopping street. It runs from Kropcke Platz, the central square, to the main train station. Until 1968, Train Station Street was a regular road with car traffic and city trams. But today, the street has been pedestrianized.

The main roadway was built in 1843 to connect Ernst August City with the train station. It was surrounded by commercial buildings, but most of those were destroyed during World War II. As a result, most of the buildings you see today have been built in the post-war era of the 20th century. Today you'll find typical chain stores.

Below street level is the Niki-de-Saint-Phalle Promenade. The Promenade may sit below the street, but it is open at the top to feel more like a lower level than a tunnel. It was built in the 1970s as part of a project to expand the city's underground rail infrastructure. Four lines of light commuter rail run under the Promenade level.

The Promenade is named in honor of Niki de Saint Phalle, a Franco-Swiss modern painter and sculptor. She created the famous "Nana" figures in Hannover that you can find on Sculpture Mile (Skulpturenmeile). Additionally, the Sprengel Museum houses over 400 of her works.
Bahnhofstrasse (Train Station Street) on Map
Walking Tours in Hanover, Germany