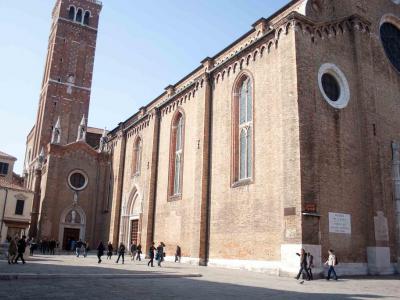 Basilica di Santa Maria Gloriosa dei Frari (Basilica of Glorious St. Mary of the Friars), Venice
(must see)
The Frari Basilica, located slightly off the beaten path, is perhaps the second most notable church to visit in Venice after Saint Mark's Basilica ("Basilica di San Marco"). Situated in a charming area with a great deal of character, it is rarely, if ever, assailed by visitors. However, the building itself is extraordinary and stands as a true monument to Venetian history and art.

Founded by the Franciscan order in the late 13th century, this gargantuan edifice is one of Venice's largest, with its brick bell tower being the second tallest after Saint Mark's. It is also one of the three Venetian churches to retain a Gothic appearance – rather plain on the outside, including the facade. Despite its deceptively unassuming "mountain of brick" exterior, the interior is truly astonishing.

Few buildings in Venice can rival the Frari in terms of housing multiple first-rate works by Titian. The renowned "Assumption" painting, unprecedented at the time, soars over the high altar. Another masterpiece by Titian displayed here is the "Madonna di Ca' Pésaro" – equally innovative in the placement of Virgin Mary's figure away from the center of the composition.

Alongside these and other paintings by Vivarini and Bellini, the church is also adorned with Donatello's wooden statue of Saint John the Baptist, a beautiful 15th-century choir, and an abundance of extravagant tombs. On the right-hand side of the nave, you'll find a 19th-century monument marking the grave of Titian. The esteemed artist passed away in 1576, aged nearly 90, due to the plague. Such was his high regard that Titian was the only plague victim allowed a church burial during the outbreak. On the opposite side, there is a marble pyramid – the mausoleum of sculptor Antonio Canova, erected by his students – and a rather controversial, if not grotesque, tomb of Doge Giovanni Pésaro, a monumental composition supported by gigantic Moors and featuring decomposing bodies among other figures.

To delve deeper into the artworks, consider picking up a guidebook or a free pamphlet by the ticket office as an aid.

Tip:
Please dress modestly (covers provided).
Basilica di Santa Maria Gloriosa dei Frari (Basilica of Glorious St. Mary of the Friars) on Map
Walking Tours in Venice, Italy
Useful Travel Guides for Planning Your Trip
--- 15 Distinctively Italian Things to Buy in Venice
Venice has been a tourist mecca for over a century now, with millions of visitors flocking in every year to see this unique place on the face of the Earth. Many, if not all, of these people seek to obtain something memorable as a token of their stay in this city. By far, not all of them know which...