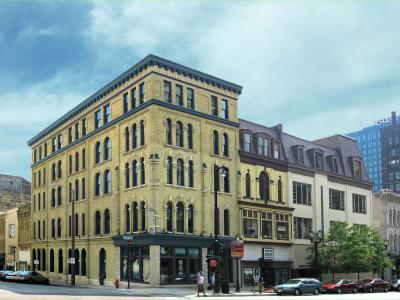 Birchard-Follansbee Block, Milwaukee
The Birchard-Follansbee Block was built by Alanson Follansbee in 1867 from an original design by E. Townsend Mix. The building was designed in the Italianate style with a French Second Empire mansard roof. That roof was later partially replaced when a fifth floor was added in 1899.

The building served as offices and a place of commerce for a number of different businesses. The longest-term occupant was Reckmeyer Furs, who moved into the Birchard-Follansbee Block in 1939 and stayed there for 30 years.

The building has housed the Johnson Bank since 2000. It is a popular stop on walking tours because it is centrally located between Milwaukee Bay and the Milwaukee River. visitors can admire the architecture from outside and even take a peek indoors if they want to see interiors that feature ionic capitals, a beamed ceiling and ornate trim.
Birchard-Follansbee Block on Map
Walking Tours in Milwaukee, Wisconsin