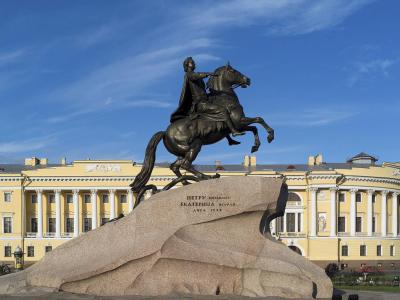 Bronze Horseman, St. Petersburg
The equestrian statue of Peter the Great, founder of Saint Petersburg, formally known as the Bronze Horseman, in Senate Square, is one of the symbols of the city. Commissioned by Catherine the Great, it took 12 years to be created by the French sculptor Étienne Maurice Falconet, starting from 1768 until inauguration in August 1782. The name "Mednyi Vsadnik" (Russian for "copper horseman") comes from an eponymous poem by Alexander Pushkin published in 1833, widely considered one of the most significant works of the Russian literature.

The Tsar's face is the work of Falconet's student, Marie-Anne Collot. She modeled Peter's face on his death mask and numerous portraits found in Saint Petersburg. Sitting heroically on his horse rearing at the edge of a dramatic cliff, the Emperor outstretches his arm towards the Neva River. His horse is depicted trampling a serpent, variously interpreted to represent treachery, evil, or the enemies of Peter and his reforms. The statue itself is about 6 meters (20 feet) tall; together with the pedestal of another 7 meters (25 feet) it stands approximately 13 meters (45 feet) high.

The statue rests on an enormous 200-ton granite monolith boulder, known as the Thunder Stone (Russian: Grom-kamen), which was delivered from the Gulf of Finland. The stone originally weighed nearly 1500 tonnes, but was carved down during transportation to its current size. At that time it was the largest stone ever moved by humans without machinery or horsepower. The Thunder Stone gained its name from a local legend that said that a thunder had split a piece off it.

Another legend says that while the Bronze Horseman stands in Saint Petersburg, no enemy force will ever be able to conquer it. During the Siege of Leningrad by the Germans in WWII, the statue was covered with sandbags and a wooden shelter. Thus protected, it survived 900 days of bombing and artillery shelling virtually untouched. True to the legend, Leningrad was never taken.

Tip:
A good vantage point late at night, around 1:30 am, to see the Palace Bridge drawing, plus several other attractions nearby and the whole stretch of the Neva embankment.
Sight description based on Wikipedia.
Walking Tours in St. Petersburg, Russia
Useful Travel Guides for Planning Your Trip
--- 16 Unique Russian Things to Seek in St. Petersburg
The "cradle of two revolutions", St. Petersburg bears cultural and historic significance for Russia that is hard to overestimate. Perhaps, nearly every stone in the downtown part of the city breathes history and can qualify as a memorable souvenir, although picking up them for such purpose...