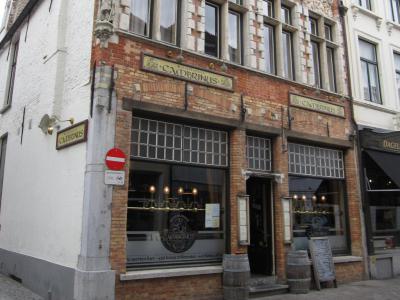 Cambrinus Bierbrasserie, Brugge
The legendary personality of Cambrinus, also labeled as John I Primus, Duke of Brabant, is often mentioned in the songs of students as the King of Beer, and is viewed by many as the inventor of this beverage. Attesting to his status, the eponymous bar in Brugge carries image of Cambrinus, depicted as a statue sat upon a large beer keg, with a foaming mug in his hand, on the corner of the façade, and the portrait thereof with a lady etched into a glass window.

The bar itself is housed in a historic building dated 1699, which makes it all the more must-go destination for any beer lover. Calling the beer menu of this brasserie "extensive" is a huge understatement, as it's literally enough to make anyone lose their bearings for a moment... The selection of Belgian beers on offer is absolutely phenomenal – a total of more than 400 different kinds on hand, including a nice Christmas menu in season!

In particular, at Cambrinus they have Westvleteren, a beer that is hard to find anywhere else, for it is not brewed for commercial use and is produced only in small quantities. Otherwise, you can spend ages simply flicking through their beer references or simply close your eyes, open the menu and point randomly! You won't go wrong.

In addition to this ridiculously long list of beers "imprisoned" here and waiting to be released, there's a sort of upscale pub food à la carte – a very Belgian brewery menu with a few dishes made with beer, all at really affordable prices.

The atmosphere is brilliant, especially in the winter months, warm with a slight smell of hops. Ideal for a stop for a good franquette.
Cambrinus Bierbrasserie on Map
Walking Tours in Brugge, Belgium