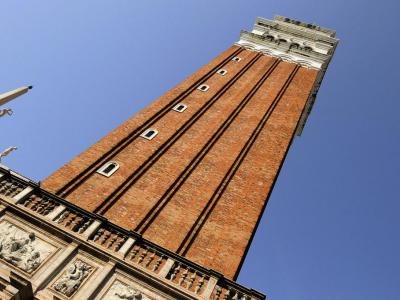 Campanile di San Marco (St. Mark's Bell Tower), Venice
Venice's tallest bell tower was originally constructed in the 12th century. It served as a combined lighthouse and belfry and underwent continuous modifications until the 16th century when the golden angel was installed on its summit. Back in the day, each of the five bells served a specific purpose: the largest tolled to mark the beginning and end of the workday, another rang at midday, two others announced sessions of the Senate or called members of the Grand Council to meetings, and the smallest signaled an impending execution.

It was from the top of this belfry that Galileo Galilei famously showcased his telescope to the Venetian Doge in 1609 – a significant event commemorated by a plaque at the tower's observation deck. Still, the most dramatic episode associated with the Campanile occurred on July 14, 1902, when the tower collapsed shortly after giving a warning sound, causing the leisurely coffee drinkers below in the piazza to flee for their lives.

The Venetians put the Campanile back "where it was and how it was", and the tower is now safe to ascend all the way to the top. Unlike other belfries that require navigating narrow, steep spiral staircases, the Venetian one has an elevator allowing to effortlessly enjoy a pigeon's-eye view for a fee.

Rising 99 meters (325 ft) in height, the Campanile stands as the tallest structure in Venice, providing an ideal vantage point to admire the domes of St. Mark's Basilica ("Basilica San Marco") and the surrounding lagoon. In the evenings, when the view is exceptionally clear, one can even observe distant landscapes for miles. However, even from the base of this historic bell tower, gazing up at its summit can be an equally thrilling experience.
Campanile di San Marco (St. Mark's Bell Tower) on Map
Walking Tours in Venice, Italy
Useful Travel Guides for Planning Your Trip
--- 15 Distinctively Italian Things to Buy in Venice
Venice has been a tourist mecca for over a century now, with millions of visitors flocking in every year to see this unique place on the face of the Earth. Many, if not all, of these people seek to obtain something memorable as a token of their stay in this city. By far, not all of them know which...