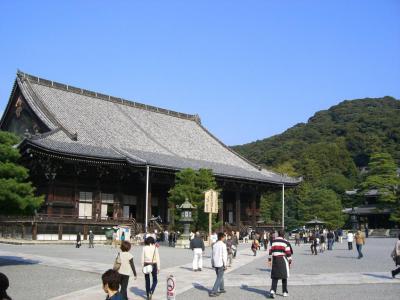 Chion-in Temple, Kyoto
The Chion-in temple is one of the most sacred sites in Japan. This is the main temple of the Jodo-Shu or "Pure Land" sect of Buddhism, and was built in 1234 by a Buddhist monk, named Genchi. The latter was a disciple of the founder of the Pure Land sect, Honen. It was built on the location where Honen preached his philosophy to the common people and where he fasted unto death in 1212. The Jodo-Shu teachings became the most widely accepted Buddhist teachings in Japan. The Hollywood movie, 'The Last Samurai', was filmed at the Chion-in Temple. Most of the buildings were destroyed by fires and the present complex was built in the 17th century.

Visitors enter the Chion-in Temple through the largest gate in Japan, the 79-foot high San Mon. The large main hall can hold up to 3,000 people. The corridor behind the main hall, that leads to an Assembly Hall, has a nightingale floor that makes a squeaking noise when a person walks on it. The 74-ton temple bell of the Chion Temple is the heaviest in Japan. A small shrine within the complex, called the Mei-Do, houses a statue of Honen. The statue is designated as one of the National Treasures of Japan.

Why You Should Visit:
The main building walk-up is a highlight as not many temples have the same size, nor are they open for visits.
The grounds are well preserved, making the visit enjoyable and even serene despite the number of tourists flocking here.
There is also access to the Kyoto Trail up into the hills at the back of the complex.

Tip:
It is possible to weave through the surrounding neighborhoods and see Kiyomizu-dera, Kodai-ji, Chion-in, and Nanzen-ji, among others, all in one day.
Keep in mind, however, that the area is quite hilly and that Chion-in will have lots of steps.
Walking Tours in Kyoto, Japan
Useful Travel Guides for Planning Your Trip
--- 18 Japanese Products To Bring Home from Kyoto
The old capital of Japan, the city of Kyoto has once again been the talk of the world lately, thanks to the bestselling "Memoirs of a Geisha" book and the namesake Hollywood blockbuster movie. Renowned for its impeccable craftsmanship, Japan has so much to amaze a foreign eye with. Many of...