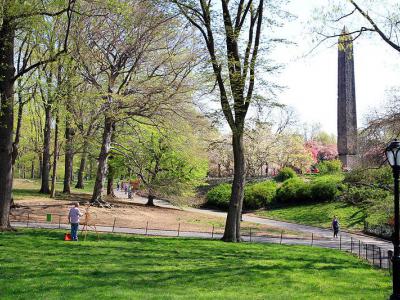 Cleopatra's Needle, New York
The oldest man-made object in Central Park and the oldest outdoor monument in New York City, this Egyptian monument is lumped collectively with two others in the world (one in Paris and one in London), each known as Cleopatra's Needle. But it's the obelisk in London that is its true twin, both being constructed at the same time and sourced from the same quarry for red granite.

At 68 ft and 224 tons, the obelisk and its twin were first erected in the ancient city of Heliopolis around 1450 BC, only to be later moved to Alexandria and then gifted in the late 19th century to New York and London, respectively.

After the monolithic offering's arrival in New York, 32 horses were hitched in two's and it was hauled from the Hudson River, carried across a custom-built bridge, erected right across from the Metropolitan Museum of Art, and manipulated into the exact direction it faced while in Alexandria.

Each corner of the Obelisk's base is supported by huge, 900 pound bronze replicas of sea crabs added by the Romans around 13 BC while it was still in Egypt and together with the carved symbols on all four sides make a wonderful photographic – and conversation – opportunity.
Cleopatra's Needle on Map
Walking Tours in New York, New York
Useful Travel Guides for Planning Your Trip
---