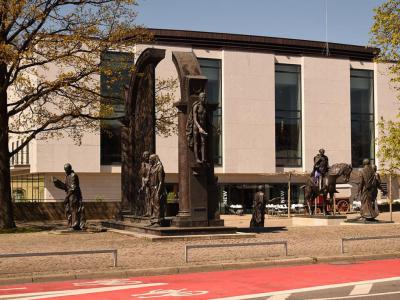 Denkmal der Göttinger Sieben (Göttingen Seven Monument), Hanover
The Göttingen Seven were liberal professors from Göttingen. In 1837, these professors protested against King Ernest Augustus. The new king wanted to alter Hannover's constitution, and the Göttingen Seven refused to swear an oath to the new king.

The Göttingen Seven included historian Friedrich Christoph Dahlmann, jurist Wilhem Eduard Albrecht, historian Georg Gottfried Gervinus, theolgian Heinrich Georg August Ewald, and physicist Wilhelm Eduard Weber. In addition, the group included Wilhelm and Jacob Grimm, the popular fairy tale writers known as the Brothers Grimm.

Friedrich Christoph Dahlmann led the protest against the King's annulment of the constitution. The six other professors signed their opposition, and the group became known as the Göttingen Seven. Following their protest, the seven professors were questioned by the university court. As a result, they were all relieved of their teaching posts. Dahlmann, Jacob Grimm, and Gervinus were given three days to leave the country.

The professors were popular, and this controversial story inspired the public and media. The Göttingen Seven sparked a movement that led to Germany creating a liberal republic.

The bronze monument features the Göttingen Seven in different locations. The three exiled professors are placed outside an ajar gate. The four professors who were dismissed but not exiled are shown inside the gate.
Denkmal der Göttinger Sieben (Göttingen Seven Monument) on Map
Walking Tours in Hanover, Germany