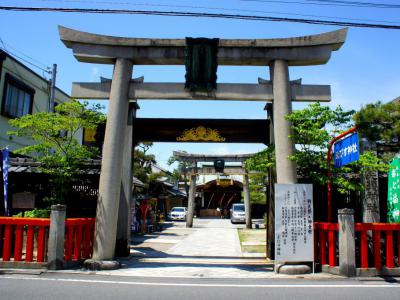 Ebisu-jinja Shrine, Kyoto
Ebisu-jinja is a small Shinto shrine dedicated to one of the Seven Gods of Fortune and Prosperity, known locally as Ebissan (Ebes-san or "Mr. Ebe"). This is one of the three most popular shrines in the country, and it has strong connections to the nearby Zen Buddhist temple of Kenninji. Legend has it that Kenninji's founder, Eisai, back in the 12th century, sailed from China and was hit by a severe storm. Fearing that his ship might sink, Eisai prayed to Ebisu, who also happens to be the guardian patron of seafarers, fishermen and business people, and the storm swiftly passed. Upon his return to Japan, Eisai built the Kenninji temple and promptly gave thanks to Ebisu for his deliverance by building a shrine in his honor. It may seem odd that Eisai respected another religion in such a way, but in Japan, religions such as Shinto and Buddhism are not seen as mutually exclusive and it is quite common to see people practice the rituals of both.

Among other things, the now prosperous Ebisu shrine, whose deity's jolly figure with a telltale fishing pole is found on the grounds, is famous for hosting the Toka Ebisu Festival in January. During this festival, entrepreneurs from all over the country gather in hope that the shrine's lucky bamboo will bring good fortune to their businesses. Prayers are made together with lavish offerings of money and there is plenty of enthusiasm. Twice bowing the head, twice clapping the hands, and then bowing again are said to be able to turn fortunes in one's favor if the claps are loud and hearty enough. October 11th is another busy day for the shrine. On this day, it plays host to an event involving actresses and maiko (apprentice) geisha, with lots of street stalls with standing bars for eating and drinking.
Ebisu-jinja Shrine on Map
Walking Tours in Kyoto, Japan
Useful Travel Guides for Planning Your Trip
--- 18 Japanese Products To Bring Home from Kyoto
The old capital of Japan, the city of Kyoto has once again been the talk of the world lately, thanks to the bestselling "Memoirs of a Geisha" book and the namesake Hollywood blockbuster movie. Renowned for its impeccable craftsmanship, Japan has so much to amaze a foreign eye with. Many of...