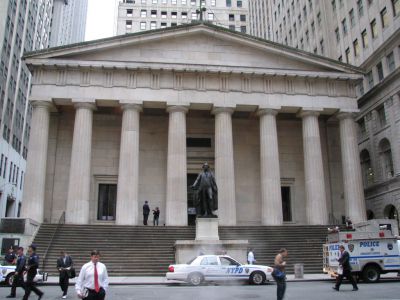 Federal Hall, New York
The original Federal Hall at 28 Wall Street in Lower Manhattan was built in 1703. It replaced the old Stadt Huys, the first city hall in New York City, built in the 17th century during Dutch colonial times. The new structure was used as a city hall, a library, a firehouse, and a debtors prison. The Stamp Act Congress and the Continental Congress met there. The inauguration of George Washington as the first President of the United States was held on April 30, 1789, on the balcony of Federal Hall.

The Federal Hall, demolished in 1812, was replaced by the Greek Revival-style Federal Hall. The new building, designed by architects Ithiel Town and Alexander J. Davis, was completed in 1842. The neoclassical edifice served as the U.S. Customs House and eventually the U.S. Sub-Treasury. It is today the Federal Hall National Memorial.

The building has a rotunda dome by sculptor John Frazee. The Greek Revival structure is built with Tuckahoe marble. The 18 steps of the main entrance are five-foot granite blocks. A large bronze sculpture of George Washington by sculptor John Quincy Adams Ward is installed on the front steps. The statue was unveiled in 1883 to commemorate the first inauguration of George Washington.

Doric colonnades hold up a triangular pediment. There are flat pilasters on the Nassau Street facade. The rotunda is 60 feet in diameter. It is an amphiprostyle with balconies. The wall of the rotunda has four sections, each containing four columns. A saucer dome tops the rotunda, covered with a circular skylight. The floor has marble blocks in a circular pattern. A stone in the center marks the spot where Washington once stood.

Federal Hall operates as a national memorial. It has tourist information about the monuments and parks in the New York Harbor area and a New York City tourism information center. The memorial has several exhibits open to the public. The gift shop has colonial and early American items for sale.
Walking Tours in New York, New York
Useful Travel Guides for Planning Your Trip
---