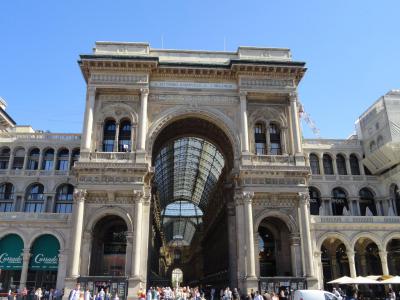 Galleria Vittorio Emanuele II (Vittorio Emanuele II Gallery), Milan
(must see)
Galleria Vittorio Emanuele II is a fashionable five-storey mall covered in curved glass, topped with iron roof and lavishly decorated with patriotic mosaics and statues – legacy of the chaotic era of Italian unification, manifesting the country's newly-acquired self-confidence.

It was built between 1865 and 1877 by architect Giuseppe Mengoni – who is also credited with the monumental design of the entire area between the Milan Cathedral and La Scala – and is named after Vittorio Emanuele II, the first king of unified Italy. Officially inaugurated on September 15, 1867, the Galleria's completion took another ten years of continuous work. Tragically, just a day before it was over, in December 1877, Giuseppe Mengoni died in accident, falling down from the top of the triumphal arch.

Designed in the form of a Latin cross, the gallery comprises two glass-vaulted covered passages, with the longer one being 196 meters and the shorter – 105.5 meters long, crossing in an octagonal central piazza below an impressive 47-meter high, 36-meter wide glass dome. Incorporating iron and arching glass, the Galleria's architectural design proved groundbreaking for the creation of enclosed shopping malls in the 19th century. Moreover, its use of an iron structure inspired the Eiffel Tower in Paris.

An interesting feature of the gallery is the floor adorned with marble mosaics depicting emblems of the main Italian cities. Locals believe that stepping on the bull's image in the middle of the floor with a heel of the right foot and spinning around can bring good luck. Adherence to this tradition has already left a hole there.

Why You Should Visit:
Almost like stepping into the picture of 19th-century Milan with its lights, colors, windows and landscaping that will never fade in your memory.
There are a few restaurants (incidentally not very expensive, considering it's 'the mall') where you can sit back, eat to your heart's content, and watch the crowds go by.
There's also a very nice Leonardo Museum at the end of the mall, bang opposite the statue of Leonardo da Vinci.

Tip:
Try to visit late at night or early in the morning when there aren't that many people in.
Don't forget to find the "bull" on the floor and have fun!
Galleria Vittorio Emanuele II (Vittorio Emanuele II Gallery) on Map
Walking Tours in Milan, Italy
Useful Travel Guides for Planning Your Trip
---