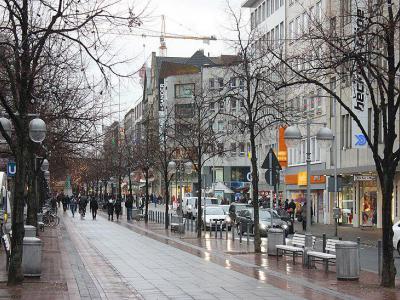 Georgstrasse (George Street), Hanover
Georgstrasse is the primary shopping street in Hannover. The one-mile street runs from the Hannover Steintor subway station to the main square of Kropcke. This is arguably the busiest street in Hannover for foot traffic as the western half, which is full of shopping and dining options, is pedestrian only.

Visitors to Georgestrasse will find local restaurants and boutique shopping mixed with chains like McDonald's, Burger King and Lego. The street also offers easy access to activities like opera and theater. Georgestrasse is also an excellent place to view art. Sculptures, monuments and the memorial for the Jewish victims of National Socialism are all on display throughout this busy street.

Tourists should take the time to visit Georgestrasse on Sunday between 11 AM and 2 PM if they are present in May, June or September. A re-enactment called the Schorsenbummel, which displays people dressed in royal garb walking down the street, takes place along with a concert in front of the opera.

The street was planned and constructed in 1787 and named after George III. The first building was erected on 1800 from a design by Johann Heinrich Daniel Holekamp.
Georgstrasse (George Street) on Map
Walking Tours in Hanover, Germany