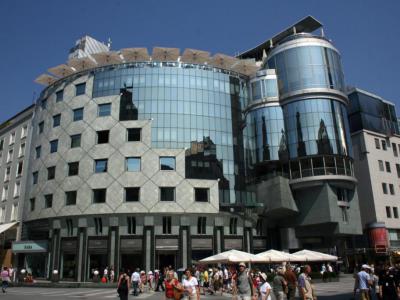 Haas Haus, Vienna
Placing a modern style edifice directly opposite the Gothic Stephansdom (St. Stephen's Cathedral) was a difficult task with which the city entrusted one of Austria's leading Postmodernist architects, Hans Hollein, author of several uncompromising jewelry stores along der Graben and Kohlmarkt streets, each of which is a minor masterpiece in its own right. The result was the iconic 1990 Haas Haus, a shining, partly mirrored structure of glass, steel and blue-green marble that curves elegantly into the street, successfully blending into the colors, shapes, and grandeur of downtown Vienna.

The building looks pleasingly asymmetrical, replete with decorative elements, such as lopsided cubes of marble attached to the facade, a protruding structure high up resembling a diving board, and a Japanese-style bridge inside. The architecture proved an intelligent alternative to the demands of Historicism on the one hand and aggressive modernism on the other, presenting a futuristic, respectful challenge to the nearby Cathedral's soaring spires, reflected in the mirrored facade. Along with the office spaces, the Haas Haus atrium accommodates cafes, shops, a restaurant, and the upmarket DO & CO Hotel.

Tip:
Take a ride to the top of the building to check out the coffee house, and enjoy the view of the old Cathedral with a nice cup of coffee in hand.
Alternatively, visit the HAAS & HAAS TEAHOUSE (Mon-Sat: 8am–8pm; Sun/Holidays: 9am–6pm) located just outside the Cathedral.
Walking Tours in Vienna, Austria
Useful Travel Guides for Planning Your Trip
--- Top 16 Austrian Things to Buy in Vienna
Vienna stool, Viennese schnitzel, Viennese waltz, Vienna sausage, Viennese apple strudel... There's so much Vienna to it, that you might think you've heard it all. Luckily, chances are that you haven't and there's much more in store left to be discovered about this fascinating... 7 Ultimately Austrian Foods to Taste in Vienna
Once the center of the vast Hapsburg Empire, stretched from France in the West to Russia in the East, Austria has embraced many ethnic influences in its cuisine over the course of centuries. Many of the country's distinctive dishes reflect its multinational heritage. Coffee culture, for...