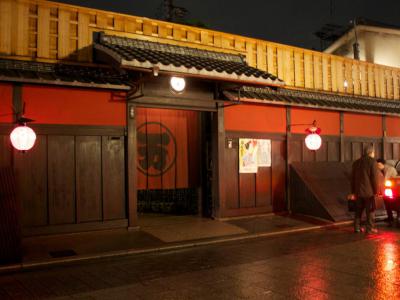 Ichiriki Chaya, Kyoto
Just a short stroll from the Yasaka Shrine, in the southeastern corner of Shijo-dori and Hanamikoji-dori streets, is a huge red-walled teahouse, known as Ichiriki Chaya. Established more than 300 years ago, this teahouse has been one of the most high-end establishments in Gion, offering geisha entertainment to the elite strictly by invitation.

In addition to its exclusivity, Ichiriki Chaya is also steeped in history. During the 19th century, revolutionary samurai warriors gathered here to plot the downfall of the shogun's reign that would ultimately reshape the history of Japan. A century earlier, the Ichiriki teahouse played an important role in a legendary samurai vendetta, known as the Tale of the 47 Ronin.

This tale is one of Japan's best known stories of loyalty which has been retold and depicted in literature, theater and movies innumerable times. The most extraordinary thing about it is that it is all true. The story started in 1701, in the Edo Castle, with a personality clash between the two hot-tempered noblemen, Kira Yoshinaka and Asano Naganori. During the clash, Yoshinaka repeatedly insulted Asano to the point that the latter "lost his head", drew his sword and attempted to kill Kira. Although unsuccessful, that attack was considered strictly against the code of honor, and Asano was ultimately forced to commit a ritual suicide (seppuku), this time losing his head literally. 47 of his servicemen thus became "ronin" or masterless samurai, and vowed to avenge their master.

To fool the enemy, for two years the 47 cleverly pretended to have no ill intentions, whilst cunningly planning the attack. For this purpose they dispersed, found new work, and their leader, Oishi Kuranosuke, moved to Kyoto and started frequenting the Ichiriki teahouse, producing the image of a debauched, drunken man preoccupied with gambling, women and song. Eventually, the group reassembled in Edo, assaulted Kira's residence, killed him and left his head at Asano's grave. After that, all the 47 committed ritual suicide, but their fame and that of the Ichiriki teahouse grew and grew with each retelling of their tale ever since.
Walking Tours in Kyoto, Japan
Useful Travel Guides for Planning Your Trip
--- 18 Japanese Products To Bring Home from Kyoto
The old capital of Japan, the city of Kyoto has once again been the talk of the world lately, thanks to the bestselling "Memoirs of a Geisha" book and the namesake Hollywood blockbuster movie. Renowned for its impeccable craftsmanship, Japan has so much to amaze a foreign eye with. Many of...