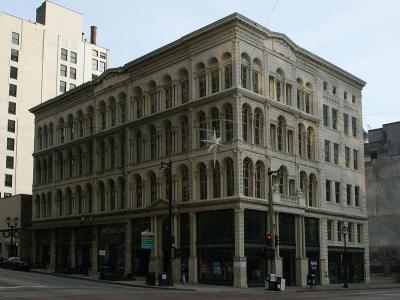 Iron Block Building, Milwaukee
The Iron Block Building is a unique, cast iron building located close to the banks of the Milwaukee River at Water Street and Wisconsin Avenue. The building was completed in 1860 using a design by architect George H. Johnson.

The panels of the iron building were cast in New York and shipped to Milwaukee to create a four story structure that would be fire resistant and long-lasting. It was constructed in Italianate style, unlike many of the German-influences found in most of the city's architecture at the time.

The Iron Block Building was originally constructed as a commercial property with the plan to fill the structure with businesses of all types. The top floor of the building was occupied by the Excelsior Lodge of Masons, which is why its first name was the Excelsior Block.

The building fell into disrepair and was deemed to be a public safety threat as portions of the facade had a habit of falling into the street. In 2012, the building was purchased by the Dental Associates who embarked on the task of restoring the Iron Block Building to the structure visitors can see today. It is now a completely renovated building and the home of Dental Associates Family and Specialty Care.
Iron Block Building on Map
Walking Tours in Milwaukee, Wisconsin