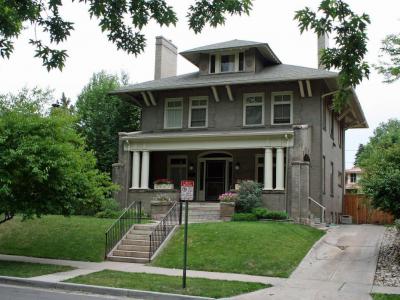 John and Elivera Doud House, Denver
The John and Elivera Doud House was nicknamed "the Summer White House" during Dwight D. Eisenhower's presidency. The house was the childhood residence of Mamie Eisenhower who was the wife of U.S. President Dwight D. Eisenhower.

Mamie Eisenhower was born to John and Elivera M. Doud in 1896 in Boone, Iowa. Her family moved to Denver in 1905. Her father bought this house in 1906 and moved the family there.

The architectural style of the Doud House is American Foursquare, which is locally called a "Denver Square." The house has a rectangular footprint with external dimensions of 32 feet by 36 feet. The carriage house, originally used to park a car, was remodeled in the 1950s to accommodate the family's servants. During Eisenhower's presidency, the carriage house was used to house Secret Service agents who guarded the family when Eisenhowers were visiting their in-laws.

The Doud House is most noted for various events connected with Mamie and President Eisenhower. Mamie Eisenhower lived in this house from 1906 until 1916. The Eisenhowers were married in the first floor music room on July 1, 1916. Their son, John Eisenhower, was born in Denver in the summer of 1922, while Mamie was living in the house. The Eisenhowers vacationed many times and stayed with their in-laws, so along with Lowry Air Force Base the house came to be known as the Summer White House. President Eisenhower had his heart attack in the house on September 23, 1955, and he was treated at Fitzsimmons Army Hospital in Aurora, Colorado.

After both John and Elivera Doud passed away, Mamie Eisenhower cleaned out the house and put it on the market in July 1961. The house was sold in September 1961. The house is still in private hand and can only be viewed from the outside; it is not available for tours.
Sight description based on Wikipedia.
John and Elivera Doud House on Map
Walking Tours in Denver, Colorado