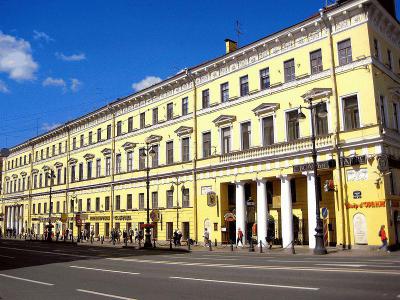 Kotomin House. Literary Cafe, St. Petersburg
The illustrious Kotomin House (Russian: Dom Kotomina) is a historic landmark, named after its prominent entrepreneur-owner Konon Kotomin, who acquired the property in 1807, some 20 years after being released from serfdom.

At one point, there was a Wolf & Beranget confectionery here, located on the ground floor, which gained popularity and made history on 27 January 1837 when Alexander Pushkin (Russia's #1 poet) visited here about 4pm, en route to his duel with Georges d'Anthès. In less than an hour the poet was mortally wounded and died the following day. The confectionery closed down in the late 1840s.

In 1834, a Chinese cafe operated on the premises, also popular with the local literati, such as Alexander Pushkin, Mikhail Lermontov, Taras Shevchenko, Nikolai Chernyshevsky, Fyodor Dostoevsky and others. Towards the end of the 19th century, another eatery – the French restaurant Albert, renowned for its exquisite cuisine and high prices – opened here, frequented by literary luminaries and even royals.

Around the same time, in 1877, Leiner's restaurant, on the second floor, gained popularity with the theatrical lot. Among its habitués were Pyotr Ilyich Tchaikovsky and Fyodor Shalyapin. Reportedly, Tchaikovsky contracted cholera at this very restaurant after drinking a sip of raw water on October 20, 1893; he died several days later.

In 1978-1981 the Kotomin House was reconstructed and since 1983 the Literary Café has been occupying its two floors. Inside, hung with pictures of Russian writers, it has, among other things, a wax figure of Pushkin sat at one of the tables on the upper floor. In keeping with tradition, the place regularly organizes poetry and music evenings, as well as other artistic events.

The traditional drink of Russia, black tea, is served here in a samovar.
Kotomin House. Literary Cafe on Map
Walking Tours in St. Petersburg, Russia
Useful Travel Guides for Planning Your Trip
--- 16 Unique Russian Things to Seek in St. Petersburg
The "cradle of two revolutions", St. Petersburg bears cultural and historic significance for Russia that is hard to overestimate. Perhaps, nearly every stone in the downtown part of the city breathes history and can qualify as a memorable souvenir, although picking up them for such purpose...